How LQC Manages the Supply Chain of Private-Label Coconut Products for A US-Based Department Store Chain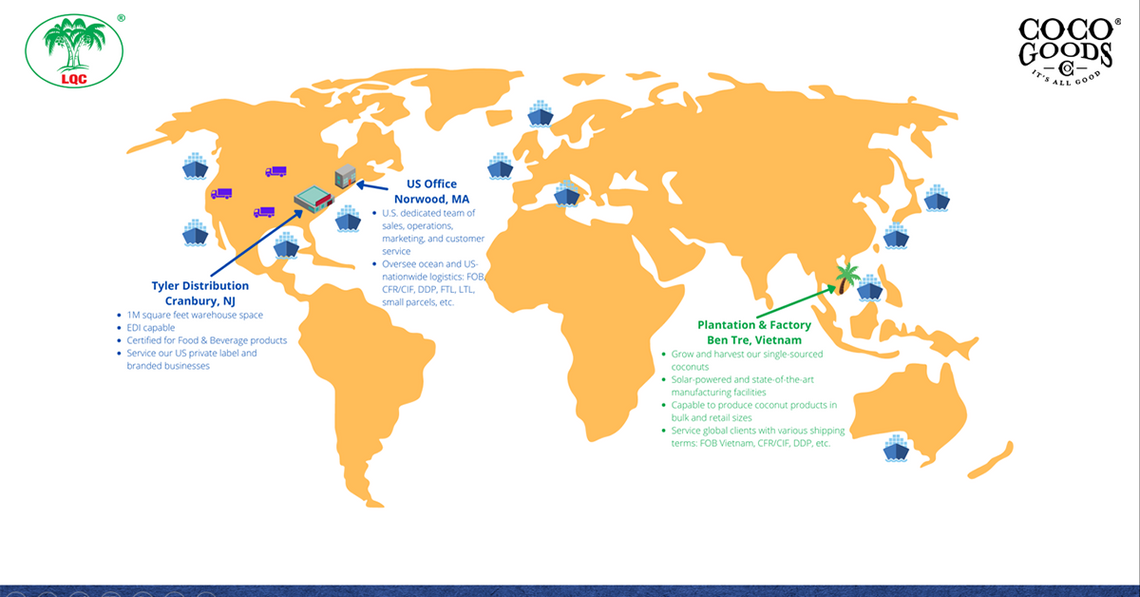 Luong Quoi Coconut (LQC) has been an expert manufacturer of organic and all-natural coconut products since 1997. We have had the capital investment in state-of-the-art manufacturing facilities to increase our production capabilities of single-sourced and high-quality consumer-packed coconut products in both branded and private labels.
LQC international team, consisting of LQC VN and LQC US, has years of experience collaborating and managing the supply chains of multiple coconut brands with more than 30 SKUs. Therefore, we can offer diverse and complete logistics solutions to our B2B customers for successfully moving goods from coconut plantations to end-consumers.
Here are the five steps the team reviews and executes weekly to sustain the success of a private label coconut milk project for a US-based general merchandising retailer (about 1,900 stores).

Tracking weekly sales velocity and forecasting
We pull the weekly store movement report from the retailer's supplier portal and review their purchase orders with LQC to update the historical sales data of two private-label coconut milk SKUs. We analyze the short-time and long-term impact of the week-to-week sales velocity on the level of available stock and safety stock at our US warehouse in Cranbury, NJ.
We also consider the current lead time of ocean transportation from Ho Chi Minh City to the port of New York, which is important to decide when to place new replenishment orders and plan production with the factory operations team in Ben Tre, Vietnam. The port of Ho Chi Minh City is the closest seaport and about 100 km/62 miles from our coconut processing factory.
Production planning

When our forecasting model indicates that we need new replenishment orders from Vietnam, the LQC US team sends production requests to the VN team. They then review other coconut milk brands' existing production plans and schedule production for new orders. The earliest cargo ready date (CRD) at the factory's warehouse and the estimated departure time (ETD) from the port of Ho Chi Minh are also confirmed for the next step, the ocean booking request.
Ocean booking and transportation
At the same time, when the production plan is confirmed and executed, the transportation department of the LQC VN team contacts ocean forwarders to find ocean booking according to confirmed ETD, container size, and quantity.
When the space is booked with a steamship line, and it is close to ETD, the team works with the selected forwarder to arrange pickup of empty containers and delivery of coconut milk-loaded containers to the port of Ho Chi Minh City.
Warehousing and order processing
Upon arriving containers at LQC's U.S. warehouse, they are unloaded, received, and processed in the warehouse management system (WMS). These private-label coconut milk products are stored at the ambient condition before shipping out by the retailer's purchase orders.
The shipping term between LQC and the retail corporation is FOB US warehouse. LQC and our warehouse receive and transmit the retailer's purchase orders and other transactions through the integrated EDI system. The retailer utilizes its efficient domestic supply chain network and logistics service partners to pick up, consolidate, and allocate its private-label coconut milk across its distribution centers for holding inventory and fulfilling its store orders.
Invoicing and reconciliation
After the retailer-partnered carrier picks up pallets of coconut milk, we process and send invoices to its distribution centers via the EDI system. Upon product receipt at each distribution center, their team reconciles the received and ordered quantities. If discrepancies occur, distribution center teams reach out and work with the LQC US team to investigate and resolve them.

If you're interested in LQC private label capabilities, please email info@cocogoodsco.com for more information.