Coconut Oil Muddy Buddies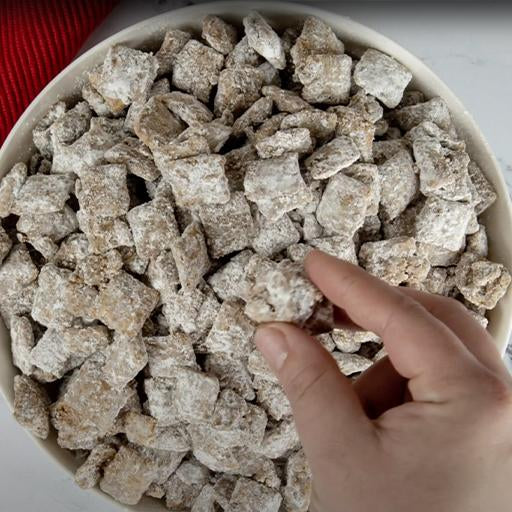 What's a crunchy, sweet, and smooth treat you can bring to your holidays? CocoGoodsCo's Coconut Oil Muddy Buddies is that treat. A simple recipe using chocolate chips and CocoGoodsCo Refined Coconut Oil will have you experiencing the goodness of the coconut this holiday season!
Find more CocoGoodsCo DIY projects and recipes here! Follow us on Facebook & Instagram for more recipes and a chance to win FREE CocoGoodsCo Goodies every month!
Ingredients
Directions
Prepare a cookie sheet with parchment paper and set aside.
Add the cereal to a large mixing bowl and set aside.
For the chocolate mixture, add the peanut butter, semi-sweet chocolate chips, and coconut oil to a small saucepan and melt on the lowest setting. Stir continuously until everything is melted and smooth, do not let it burn.
Remove chocolate mixture from the heat and pour it over the cereal pieces that are in the large mixing bowl.
Gently stir everything together until all of the cereal is covered with the chocolate mixture. You don't want the cereal too thickly coated so if you have too much chocolate mixture, you can always add more cereal to even it out.
Place the chocolate-coated cereal pieces on the prepared cookie sheet and spread out evenly, so they aren't touching each other.
Place cookie sheet in the refrigerator for about 5-10 minutes to allow the chocolate mixture to cool.
Take out the cookie sheet from the refrigerator and make sure the chocolate has cooled completely. Sprinkle half of the powdered sugar over the cereal. This will help keep them from sticking together.
Return cookie sheet to the refrigerator for another 5-10 minutes.
Remove cookie sheet from the refrigerator and transfer the cereal to a large mixing bowl. Sprinkle the rest of the powdered sugar on them and gently toss until everything is coated evenly.
Store in an airtight container and enjoy!