CocoGoods Co. - Dope Kitchen Carrot Cake No Bake Balls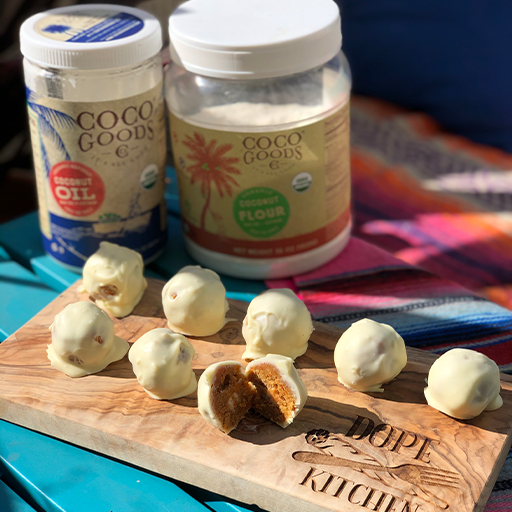 Sweet tooth craving bit-sized sweets. Get to the root of your cravings with Dope Kitchen's Carrot Cake No Bake Balls recipe. You can never go wrong with cake on the go! Dope Kitchen's Carrot Cake No Bake Balls contain almond butter, cinnamon and nutmeg, and CocoGoods Co's Coconut Flour coated in sweet cream cheese frosting. Easy to prepare and easy enjoy. Bring and share the Goodness of the Coconut at your next gathering!
Find more CocoGoodsCo DIY projects and recipes here! Follow us on Facebook & Instagram for more recipes and a chance to win FREE CocoGoodsCo Goodies every month! Follow Dope Kitchen on instagram @dope_kitchen.
Ingredients
Truffles
1 cup almond butter
2 tbsp maple syrup
2 medium carrots, finely grated
1/2 tsp cinnamon
1/2 tsp nutmeg
1/2 tsp cloves
1/2 cup CocoGoods Co. Coconut Flour
Cream Cheese Filling
2 tbsp butter, at room temp
4 oz cream cheese, at room temp
1/2 cup powdered sugar
Chocolate
4-8 oz white chocolate chips
Directions
Mix all cream cheese filling ingredients together and make about 24 pea-sized dollops onto some parchment paper and put in the freezer for about an hour (or more). You can also use pre-made cream cheese frosting. There will be some leftovers.
Mix all truffle ingredients together in a bowl. Using a tablespoon, scoop mixture, make a well in the center and place a cream cheese dollop, then carefully roll into balls. Place in the freezer for up to 30 minutes.
Melt chocolate in the microwave or a double boiler and add in coconut oil. Stir until smooth. Remove truffles from freezer and coat each ball with chocolate. Place back in the freezer for 20 minutes. Enjoy!
Notes from Dope Kitchen
The almond butter I used was (clearly) very #thicc. If you use a runny-er almond butter, you may need to use more coconut flour to absorb some of the moisture. Alternately, you can use cashew butter. I do not recommend peanut butter because the flavor is more overpowering than almond or cashew butters.